Please help Elemental Scraps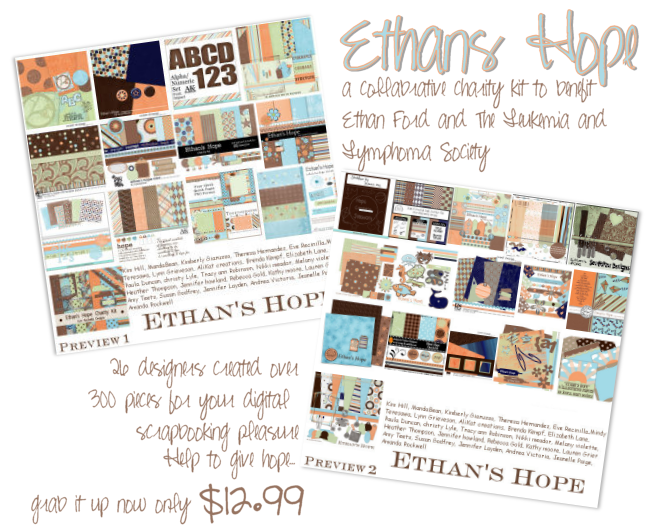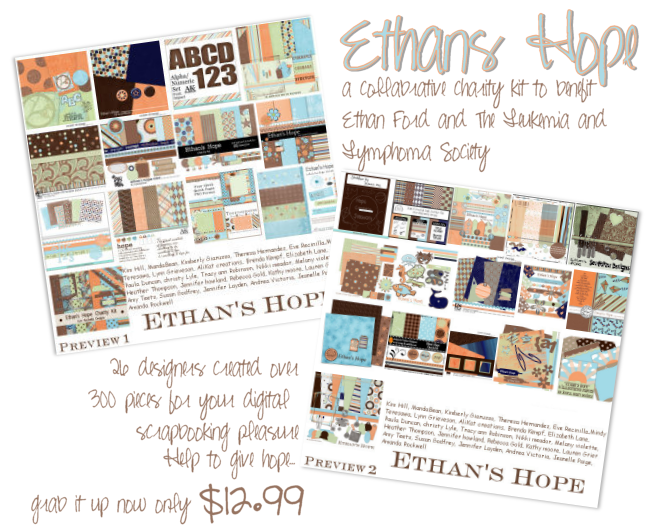 Help Ethan!
Ethan Ford is a 7 year old boy who was diagnosed with cancer when her was 5. He is currently on Chemo which he will continue for the next 22 months of his little life.
Ethan's Mom is Shannon Ford, a scrapbook designer at Elemental Scraps.
Ethans Hope Charity kit is now available at
Elementalscraps.com
and ready for sales... ITS HUGE... over 300 pieces by 26 top designers and GORGEOUS. It coordinates so well that almost ever piece from each designer can be intermingled and used as needed. FOR ONLY $12.99!!! All sales benefit Ethans family and The light the night walk.
** The Light the Night Walk for Leukemia and Lymphoma is scheduled for Saturday September 30, 2006. Elemental Scraps will sell the kit from June 1st to September 25th.
Kit Purchase makes you eligible for prizes during our charity chat on July 15, 2006. Prizes to include: 2 Wacom tablets and over $800 in gift cards from designers like Gina Miller, Sweet Shoppe, Diane Rigdon, Dani Mogstad, CG Essentials, Kathy Moore, Addicted to Digital, Miss Mint, ScrapwithNikki, Lauren Reid, Kimberly Gairrusso, ScrappyDoodle, Natural Designs in Scrapbooking, Elemental Scraps, Melany Violette, Amy Teets and many many more.....
Companion Kit being sold at ScrapGirls available June 1st 2006. you can find it
here